55+ Lifestyle Home a Dream Come True
Living every day as though a vacation: it's reality at in this 55+ Pittsburg California community.
Whimsical palms, tall elms, and alluring pistachio trees visually embellish and enchant the tranquil setting of this peaceful 55+ community. The Temple Companies has designed the manufactured homes in Pittsburg, California expressly for those who demand the best in age-restricted living.
Located less than an hour from San Francisco and a pleasant drive to California's fabled wine country, our homes and apartments offer a great combination of affordable, low maintenance homes, serene surroundings, abundant activities and a delightful Northern California climate.
A Picture is Worth a Thousand Words! Well, Here Are a Few Thousand to Project Into:

Would you like to wake up to this visual beauty and climate every morning? You can when you own a manufactured home here.
Wow, how wonderful would it be to say, "That's my house!" You can say it when you own a manufactured home in Delta Hawaii. If this is the kind of lifestyle you've always dreamed of, don't just project into these photos. Make it your reality, stop by and you'll never want to leave!
A Whole New World of Living That Elevates the 55+ Lifestyle to Elegance.
Over the past several decades, manufactured homes, in private land lease communities, have become an increasingly popular choice for 55+ active adults. This 55+ community in Pittsburg, California, developed by the award-winning Temple Companies, continues to delight home owners. The quality, beauty, and technology of the manufactured homes, along with the amenities and activities available, have reached, and surpassed the standards of traditional homes.
How You Benefit With Manufactured Home Ownership
Rather than buying the land on which your home is sited, at Delta Hawaii, you lease your home site within the community. Generally speaking, you have the same rights of enjoyment on your leased site as you would on an owned site. Plus you'll enjoy all the amenities, activities, and services of a conventional adult community, without paying any upfront property costs.
There are beautifully designed home concepts to select:
The "Lily" Manufactured Home Design rendering.

60 x 28 feet.
The "Orchid" Manufactured Home Design rendering.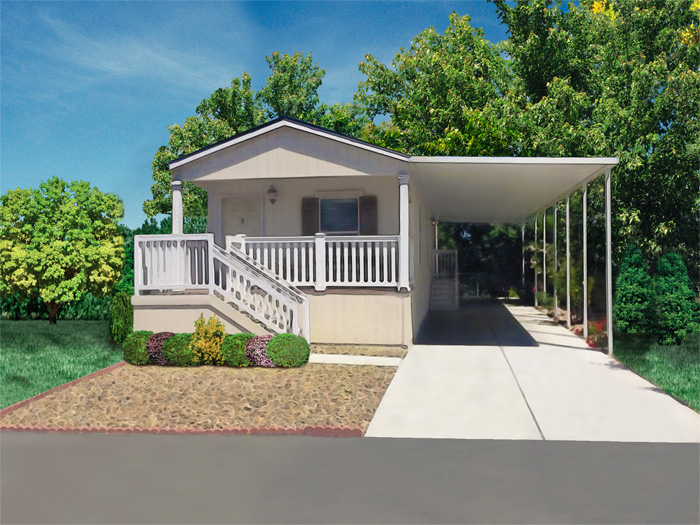 60 x 16 feet.
Forget Real Estate Taxes
You won't pay any real estate taxes on your leased home site either, nor will you be subject to any association fees. You simply pay one easy land lease fee each month with no additional property costs whatsoever. The many thousands of dollars saved by leasing your home site at Delta Hawaii in Pittsburg, California can be used for travel or luxuries, applied toward the cost of the new home, or put towards whatever use you value most.
Living the 55+ Lifestyle in a Manufactured Home is a Dream Come True