Five Reasons to Move to Delta Hawaii
Five Reasons to Make Delta Hawaii Your Lifestyle Choice
High value, exceptional quality, uniquely designed manufactured homes.
Delta Hawaii 55+ living is only one of the exceptional homeowner communities designed and constructed by the Temple Companies. A range of attractive features allows personalizing the homes. The Delta Hawaii community offers the home buyer a well thought out choice of designs, and spacious layouts. Located in Pittsburgh, California Delta Hawaii, 55+ offers true lifestyle solutions. Delta Hawaii goes beyond the quality of manufactured homes; it's a community where the style of living is every bit as important as the unique style of its homes.
The Temple Companies staff take great pride in the premier manufactured homes of the Delta Hawaii community. Every home design is driven by the Temple Quality Standards. The Temple Companies has developed, owned and managed more than 38 manufactured home communities with over 10,000 home sites nationwide.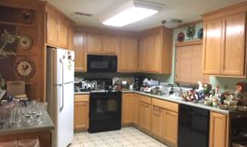 Beauty and function are key
The Temple family and staff are devoted to customer satisfaction and to offer quality home ownership that aligns with many lifestyle budgets. Reflecting this customer-driven approach, the Temples utilize consumer research, quality building methods, and superior service to provide the most value satisfaction for their customers. Every Delta Hawaii home comes with blinds and a drapery package as standard. Just to provide a sense of the many benefits offered at Delta Hawaii, here are five to consider.
Delta Hawaii: Consider-
Low Overhead
Paying less for living expenses allows enough extra money to travel, pursue hobbies, and just get more out of life. Delta Hawaii offers low overhead, and virtually no maintenance to deal with.
Faster Construction
Delta Hawaii manufactured homes are constructed in 1/5 the time at half the cost of site-built homes. In a factory-controlled environment there are no delays, and no damaged materials due to weather conditions.
Less Manufacturing Waste
Because manufactured homes are assembled in a controlled, factory environment they require fewer materials and generate 35%-40% less waste comparable site-built homes. Modular construction uses less material without compromising a building's structural integrity, so you support green initiatives.
The life expectancy of a Temple Companies-built manufactured home is equivalent to comparable site-built homes.
Forget Extra Costs
Being a land-lease community, Delta Hawaii ownership means you'll have no real estate taxes. What's more, you don't have to pay water bills or sewer fees. And there's virtually no closing costs.
Fantastic Location
Delta Hawaii is not only designed as a lovely community, it was also designed to be ideally located near great shopping, medical facilities, great dining spots, golf courses, historic sites, hospitals, and houses of worship. There's no shortage of entertainment and nightlife. Since 1955, the family owned, and operated Temple Companies have brought home ownership innovation to life for many people.
Call today and take that wonderful first step to enhancing your life:
925-439-9010   875 Stoneman Avenue, Pittsburg, CA 94565