From Kung-Fu to Cane-Fu.
In general, most seniors don't give much thought to self-defense. Often, they feel they are too old or not physically fit enough. But in today's world having some basic ways to protect yourself is wise. A growing form of self-defense can be very effective by having a walking stick or cane by your side. It's usually called "Cane-Fu," an obvious play on the martial art of "Kung-Fu."  A cane is fast and efficient. Other defense products have to be taken out of a pocket or somewhere on your body.
A cane is always at the ready.
A cane is out and ready to use immediately. Just knowing you have some defense capabilities will not only serve to boost confidence but will help you actually convey a sense of confidence to others. That alone can help make one less of a target. You can find quite a bit about it by typing it into a Google search.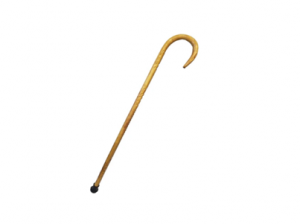 Having a good, solid wooden cane is excellent as it bears more weight than light metal. Just be sure the cane or walking stick is sturdy and of high quality. Test the cane to be sure you can swing it to your strength level. You may be surprised, but there is a line of legal "combat canes," available. Cane defense classes are often available at senior centers, and police departments, and some are offered free of charge.
There are several ways to learn.
You can pick up tips online or you can take some formal training. The latter will add social contact as others will be in class with you.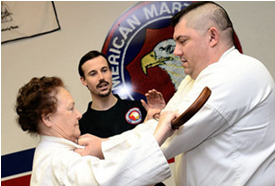 Photo by Frank Ordonez / The Post-Standard.
Plus, you can interact with others in the training so its more realistic. In most cases you can observe an actual class to determine if it will be suitable to you. Mark Shuey is an expert in Tae kwon Do and is the founder of Cane Masters, and trains others in his cane defense program. You can find him on YouTube.
Delta Hawaii 55+ is the best defense for home ownership.
Home ownership with true cost savings with a worry-free living environment is a great defense to enjoy. It's a natural defense against high cost, maintenance and taxes and more. Choose from a variety of home styles available at Delta Hawaii 55+.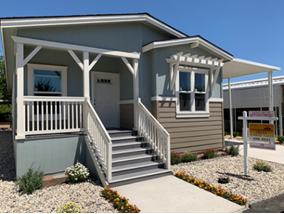 193 Kona Circle. Sleek luxury is available right now.
Further enhancing the savings, traditional property taxes on the home site are replaced by a comfortably affordable monthly land lease fee. Let us help you defend your future, call us today to learn more.
875 Stoneman Avenue Pittsburg, CA 94565   925-439-9010