Less is more with efficient kitchen space
Don't think of it as decluttering but rather consider it making your kitchen more efficient. Over a period of time the typical kitchen can feel and look cluttered up and visually busy. So, how to start to part ways with stuff you don't need? It's not a matter of items you want (that's emotional), it's a matter of what items you don't need. One of the best ways to get into the mindset is to ask a trusted friend to help keep you on track, and off the "memory lane syndrome," where you visit a memory for nearly every item you see which tends to get that item held back from the efficiency commitment.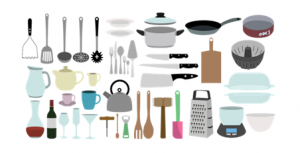 Lots and lots of kitchen items
It's about process
Carefully and methodically scan one area at a time and don't attempt to do the entire kitchen in one day, it might be too much. The notion here is about a process to get you through the kitchen evaluation. Focus on process for an easier time. Cabinet drawers might work best as the place to start. That's where you'll find duplicates of many things like measuring cups and spatulas. It might help to keep in mind that many other people may have need for your extras and would be incredibly pleased to have them. Once you've completed that drawer you move to the next—methodically. Then the cabinets, the counter tops and so on.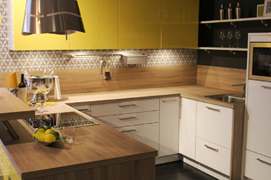 Create the space to make your place efficient
A few other techniques:
(1) Place a time limit on it. Set your smart phone alarm for a set time, say 5 minutes per drawer. Speed forces faster decisions.
(2) Don't start cleaning, just remove items. If you start cleaning, you'll be distracted.
(3) Don't revert to the what if I need it at some point! If you haven't encountered that some point by now, you never will.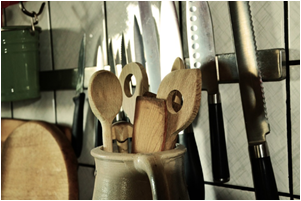 How many do you really need?
(4) Be honest and consider, do I ever really use this, or if a friend borrowed it and never returned it, would I even notice? Using a process will truly assist you in getting to a more space-efficient kitchen.
Of course, the most important space is the home you live in.
So many discerning 55+ homeowners have purchased at Delta Hawaii, in Pittsburg California, for its wonderful location, and affordable, beautiful and low maintenance homes. All which set Delta Hawaii apart from other 55+ active communities in northern California.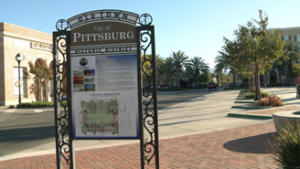 Delta Hawaii offers residents the unique blend of low maintenance, low cost and comfort. It's the perfect place and space for today's active 55+ adults.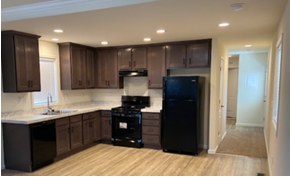 Efficiency can be beautiful.
Today, right now is the right time to call and set up a tour. 875 Stoneman Avenue,
Pittsburg, CA 94565       925-439-9010.