Walking in the Beauty of Delta Hawaii
Walking in the Beauty of Delta Hawaii
A walk and a walking stick can do more than just support you structurally.
There's more than abundant proof that walking is really good for you. Walking can be an excellent form of exercise that directly benefits good mental and physical health.
Some guides say that people 55 and over will benefit from 30 minutes of walking daily. And of course, if you're going to walk, Delta Hawaii has the lovely grounds on which to do so. Surround yourself with beauty-walks.
Not to be exhaustive, walking delivers very impressive results.
Your muscles and bones will become stronger and help control your weight.
Your balance will improve and in some, reduce blood pressure.
Joint flexibility will become better.
Some studies show that walking cut in half the number of people who fracture their hip.
It could even help socially as you meet new people out walking.
Adding a Walking Stick
A fact perhaps not well known: a walking stick can help improve your posture. Typically, walking sticks are perceived as a way to support your body. There are many advantages to using some form of a walking stick or hiking poles.
Walking sticks can help improve your posture putting you in a more upright position. Not only does this help your posture, it takes a lot of unnecessary pressure off your knees. Plus, walking sticks also provide an upper body and lower body workout.  Obviously before taking up walking or other exercise be sure to consult your healthcare professional.
Walking sticks or poles are a wonderful addition to a low-intensity exercise routine. And yes, it can help improve mood and confidence. This activity can be extremely beneficial for active seniors, arthritic users, patients with cardiac health concerns, and people with diabetes. Your abs will tighten each time you push off with your poles and helps burn calories. It's a fun social workout. Make a "thing" out of it and invite your friends to enjoy all the health benefits with you. What a great way to promote social interaction.
Some physicians agree that a walking stick is actually better than a cane. Many people have shoulder problems from leaning on a cane. A walking stick doesn't put pressure on the shoulder but enables the bicep muscle to hold the body up. Also, many people using a cane bend forward and take very short steps. The walking stick encourages the walker to stand straighter, have better posture, and walk with a more natural stride.
Preparing to walk
Make sure your healthcare professional guides you along. You need to know if there are any exercises you should not do.  Could any previous health problem, injury or even medications you take be a problem? First and foremost, make sure you wear correct and properly fitting shoes and clothing for walking and stay hydrated.
A walk-through living beauty
The Delta Hawaii community is nestled on shaded tree-lined streets and accented with majestic Palm trees located approximately 45 minutes north of San Francisco in historic Pittsburg, California. The perfect place to live and enjoy life and walk to your heart's desire.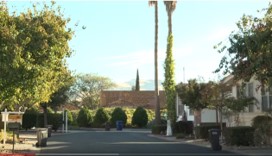 Why not call today and walk into a whole new style of living for 55+ independent thinkers.
875 Stoneman Avenue    Pittsburg, CA 94565   925-439-9010