You want me to what? In the Kitchen?
Some people don't do well with dentists, others with getting flu shots and still others with public speaking. I don't do well in the kitchen. Actually, I'm worse than not doing well, I'm spectacularly bad when it comes to cooking. I should say, I can take some credit—I can boil water and it's just amazing.
All you do is watch and the water just gets to this tremendous bubbling frenzy at 212 degrees. I mean its science, right? You just can't go wrong. Unlike toast or eggs or hamburgers, you can't burn water. I love it! You'd think I would be quite handy in the kitchen since my wife is a fantastic cook, and one of my son's is an executive chef. He's run major restaurants and huge facilities. He's been cooking since he was twelve years old. My wife and son cook up the types of meals that are pictured in the better food magazines. And I … well, I boil water.
Anyway, I'll share an achievement I enjoyed in the kitchen. My wife was away visiting her sister. My son Chris, the chef, is living and working in Utah. It's midafternoon in January and the phone rings. "Hey pops," says Chris. Did you watch the game?"
"Yes," I reply, "and I'm sorry I did. It was a lackluster game, just terrible."
"No argument there," he says."
After discussing the game, he asked how I was doing. I told him that mom left me a few meals in the freezer, but I had been going to the deli for junk food. To my surprise he says, "You need to cook something. You love chicken. Mom has that top-notch pressure cooker, right? Reluctantly I agree, not sure where this is going. Then he springs it on me. "You're gonna make a chicken dish with me."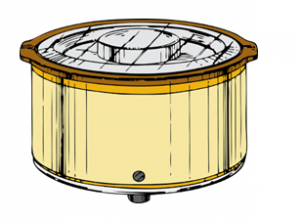 "You want me to do what?" I protest.
He disregards. "We're gonna cook together and he gets me to open my laptop and in moments we're on Zoom.
"You love chicken and I know mom always has chicken." Following his instructions, I set up the cooker and he digitally works alongside me, and I'm cutting up ingredients and starting to enjoy it (well, somewhat).
"What am I making?" I ask.
"Pressure-Cooker Apple Balsamic Chicken," he says with authority.
"Sounds fancy-dancy. Can't we start slow, maybe boiled eggs?"
That didn't fly. So, step by step, he guides me through the process. The meal turned out fantastic and visually, it looked better than a pan of water boiling, I do admit!  Chest out, self-satisfied I say, "Well, I'm ready for a chef's uniform."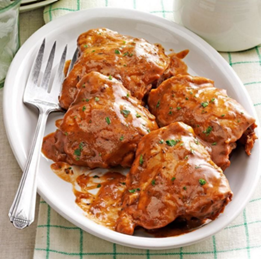 "Pops, don't quit your day job yet, but you pulled it off."
If you're like me, not a kitchen person, you should try cooking something. I'm thinking that since I can boil water so expertly, I may try making pasta. NOT!"
Anyway, here's the recipe that my son provided. Give it a try.
 The Ingredients:
1/2 cup chicken broth
1/4 cup balsamic vinegar
2 tablespoons butter
2 tablespoons all-purpose flour
1/2 teaspoon salt
1/2 teaspoon garlic powder
1/4 cup apple cider or juice
1/2 teaspoon pepper
2 tablespoons lemon juice
1/2 teaspoon dried thyme
1/2 teaspoon paprika
4 chicken thighs with the skin removed 1-1/2 lbs.
Getting it together
You'll need a small bowl. Combine the first 9 ingredients in your pressure cooker, mine is a 6- quart. Place the chicken in, and then pour the broth mixture over it. Close the lid and lock it. Now, close the pressure-release valve. Set it on high for 10 minutes. Let the pressure release naturally. That's about10 minutes. Then you quick release the remaining pressure.
Remove the chicken. Skim off the fat from cooking liquid. Melt butter in a small saucepan and use a whisk to mix in flour until its smooth. Gradually add cooking liquid. Cook and stir until the sauce is thickened, 2-3 minutes. Serve with the chicken. Even if you don't make this meal, you can cook something. If I can do it, so can you.
Cook up an amazing life at Delta Hawaii 55+ community
Enjoy flexibility in choice that so many 55+ homeowners already have: an amazing location, affordability, activities, and home values that save you money. Located in northern California, in the historic town of Pittsburg, Delta Hawaii provides residents with flexibility: design, quality, tranquility, convenience, and low maintenance.
Really now, isn't this a place that you could really enjoy cooking!
Follow up with us today. Find out what we can cook up for your lifestyle.
875 Stoneman Avenue, Pittsburg, CA 94565   925-439-9010